Our School Resource Officer came in today to share about crosswalk safety with all of our 3rd grade classes. Thank you SRO Lekas for keeping our Cubs safe!
Nuestro Oficial de Recursos Escolares vino hoy para compartir sobre la seguridad del cruce de peatones con todas nuestras clases de 3er grado. ¡Gracias SRO Lekas ​​por mantener seguros a nuestros Cachorros!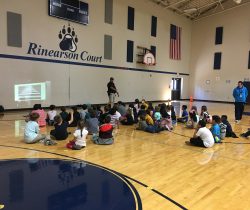 SRO Lekas giving a presentation to the 3rd graders on how to stay safe while crossing the street.
SRO Lekas ​​dando una presentación a los alumnos de 3er grado sobre cómo mantenerse seguros mientras cruzan la calle.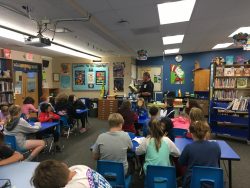 SRO Lekas reading to a 4th grade class in the library before his presentation.
SRO Lekas ​​leyendo a una clase de 4to grado en la biblioteca antes de su presentación.